Andalusia is  one of the most important golf-destinations of Europe and is home to 100 golfclubs. In Andalusia you will also find the best golf courses from Spain like Real Club Valderrama, Finca Cortesin, Club de Golf La Reserva – Sotogrande, Marbella Club Golf Resort and Real Club de Golf las Brisas. The mayority of the golfclubs in Andalusia demand a handicap of 28 for men and 36 for women, but seldom the clubs control these handicaps.
The climate of Andalusia represents high temperatures throughout the year, which makes this region particularly suitable to practice golf. July is the warmest month with an average temperature of 28º C (82 º F). January is the coldest month with 11º C (51º F). In july golfplayers can enjoy an average of 12 sun hours per day! The provinces of Malaga and Cadiz – both with their large coastlines posess a high density of golfcourses. The score of 8,2 on LeadingCourses shows how suitable Andasia is for playing golf. The score depends on various factors like the average score of each golfcourse in the area and the density of golfcourses that beat the  average score.
Click on the enclosed map to see the overview of the 26! golfcourses around Mijas.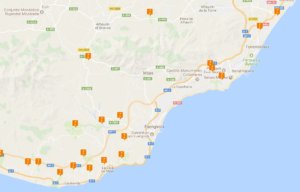 Mijas Residence offers an exclusive golf arrangement:
1 Week stay in one of our apartments.
1 Week greenfee for 1 or more golfcourses.
Optional: Transfer (return trip) to the golf course(s)
Optional: Lessons from a professional player
Would you like to receive more information?! Please fill out your personal data and we will inform you without compromise about the week of golf.